ahore, 1 March : Pakistan Football Federation (PFF)'s Makhdoom Syed Faisal Saleh Hayat, MNA, has unveiled the new LOGO of PFF, as well as confirming dates and host cities for the international event Pakistan will play in future, during attractive PFF Logo unveiling ceremony at FIFA Football House, Lahore today. The new logo, dynamic, stylish and energetic picks up on the form and structure of PFF.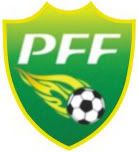 The glittering part of the ceremony was Flag of Logo, unwrapped by Faisal Saleh Hayat, with showering of flowers, surrounded by flags of Pakistan, FIFA, AFC and Fair Play in presence of all PFF's Directors and head of Provincials/organizational Associations. Also present on this occasion were PFF Congress member Zahir Ali Shah, Khadim Shah, Irfan Gohar, Munawar Malik, national team's manager Irfan Niazi, coach Akhtar Mohiuddin and all 32 probables currently in the AFC Challenge Cup Camp.
The logo consists of a fire-up, shining black/white football progressing gloriously towards triumph with dark green background. These are the colors of PFF as well as National Flag of Pakistan viz dark green in colour with a white bar. The idea of fire ball is to ignite, motivate the players to go for success and if they could draw with Asian Champion Iraq, they can beat any team.
"The new PFF logo captures perfectly the dynamic growth of football in recent years in Pakistan, Vision of Pakistan and it will drive our players, coaches, referees and organizers to go for top spot. When people see the new Logo, we want them to be inspired to make a positive change in their life. The Logo has been targeted at the young people the PFF staff hope will get involved," said Faisal who added the Logo will teach us " Go extra mile to achieve the target".
"After Pakistan winning the soccer event of Colombo's South Asian Games two years ago to outpace Indian in overall soccer gold medal tally, football has been growing strongly in Pakistan since Faisal Saleh Hayat took over the command in 2003. I am sure this new visual identity will help to promote the football throughout our country." said Naveed Haider.
Faisal added: "All in all, it's a fairly attractive logo, and it certainly stands out. The logo precisely incorporates everything about Asia and Pakistan."
Speaking during the unveiling of the new logo, Faisal hailed the Print/Electronic media for lifting Football to No.2 berth in Pakistan after cricket and praised the effort of Sardar Naveed for tackling the Marketing Wing in efficient way and making possible Rs.10 crore activity of PFF last year. He added that Pakistani National team will appear in two events whose matches will provide points to every participant in monthly FIFA World Ranking. Pakistan will undertake tour of Chinese Taipei to face host Chinese Taipei, Sri Lanka and Guam in second AFC Challenge Cup from 2-6 April 2008, followed by seventh SAFF Championship where Pakistan will take on arch rival India, host Maldives and Nepal in Group-A. The eight-nation event will be held from 3-14 June 2008. Pakistan U14 team will appear in AFC U14 Festival of football at Iran in May while Bangladesh's 11th South Asian Games in November will be assignment for our U23 team who will vie for hat-trick of triumphs at Dhaka after back-to-back gold in 2004 and 2006.